You Will Like This Aluminum Frame Folding Door
Updated: 14 Sep 2022
Aluminum folding doors have superior physical properties such as heat insulation, moisture resistance, fire retardant, corrosion and wear resistance, and strong sealing. And folding doors are easy to push and pull, both to play the role of space separation and space saving. The aluminum glass folding door is also subdivided into thick and very narrow frames. About types of
aluminum folding door
frames,
Shenghai Aluminum
listed a detailed analysis.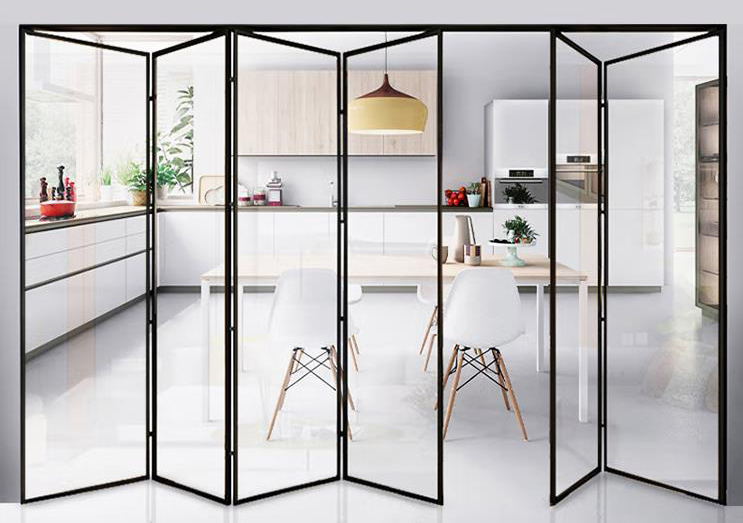 Type of aluminum folding door frame
Aluminum folding door frame is not the thicker the better. Because to consider the door load-bearing problems and the view effect.
Thick Frame
Generally speaking, the greater the width of the folding door, the more material is used to manufacture the folding door. However, this does not determine the performance of aluminum folding doors. Too much material stacking can lead to worse problems, such as overweight doors and faster hardware wear. And it will make the quality and life of the aluminium bi fold decline. Therefore, the aluminum folding door frame is not the thicker the better.
Extremely Narrow Frame
With the increasing simplicity of consumer demand in the folding door market, consumers' pursuit of minimalist style is becoming more obvious. For example, full-screen cell phones with narrow bezels and laptops with narrowframes, all because the simplicity of extremely narrowframes can bring consumers a wider perspective.
Shenghai Aluminum launched the folding door extremely narrow series to create a minimalist and light unique aesthetic with simple lines, bringing a comfortable, high-end and frame view experience.
Extremely narrow series aluminum folding door features
1. Rich performance
The folding door uses high-quality pulleys, wear-resistant and silent when pushing and pulling. The door frame and upper track have windproof and anti-swing design. The door is embedded (groove) frame when closed, and the frame has adhesive strips, which are tightly pressed against each other when closed, and can achieve the effect of sealing water and windproof.
2. Freedom
Extremely narrow style is not simply narrowing the frame but also showing simplicity from every place. It greatly reduces the proportion of the profile in the field of view to obtain a wide field. This gives a comfortable, free feeling.
3. Comfortable space
The narrow frame design allows the outside light to penetrate better into the interior. Natural light is sufficient to create a personalized and comfortable space in the interior space, meeting the needs of modern minimalist home decoration.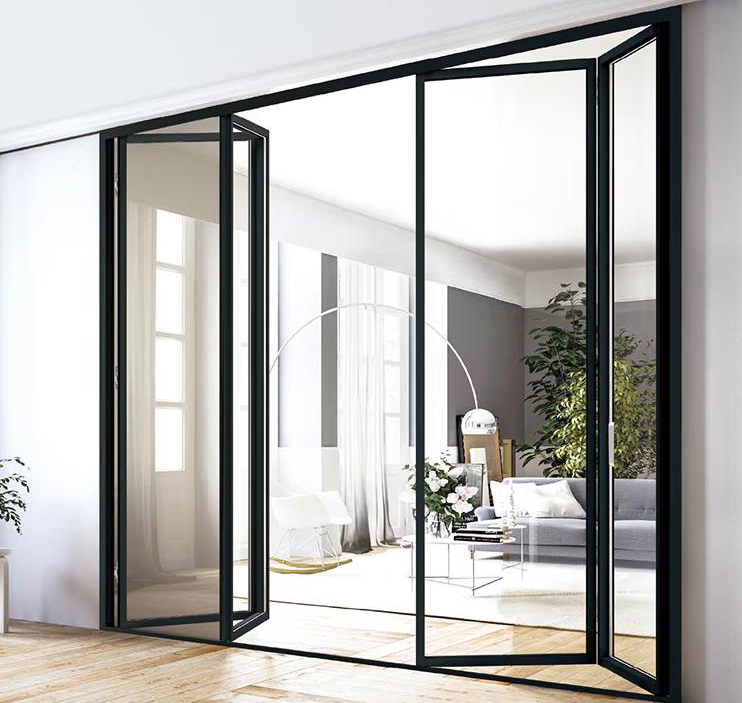 The most important feature of
aluminum folding door e
xtremely narrow
series
is that it is spacious after opening. Simple push and pull retractable action easily play a role in separating space but also can effectively save the space occupied by the door. And has a beautiful and generous, open view, fashionable style, and unique and excellent decorative effect.