Aluminum Door and Window Frame Profile Manufacturer
Updated: 11 Dec 2021
The Best Aluminum Door and Window Frame Profile Manufacturer
Extruded aluminum frame door & window is becoming increasingly popular, and the scope of application is becoming wider and wider. We can design a place suitable for customers to live or office according to customer needs. Whether hot and dry or humid and rainy countries or regions, custom-designed
aluminum door and window
frame profile
can solve these problems.
Shenghai Aluminum is the best aluminum extrusion manufacturer in China. We provide more than 15 custom-designed door and window solutions for Saudi Arabia, Africa, Europe, America, Thailand, and countries or regions. We have won Like from customers.
Custom and Standard Aluminum Door & Window Frame Profiles
We provide aluminum frame profiles for windows and doors for architectural projects, usually using aluminum alloy 6000 series materials. These include 6061, 6063, 6082, 6463, etc. They are also typically tempered to a T3, T4, T5 or T6 condition to increase hardness. Surface treatment options include anodizing, electrophoresis, powder coating, PVDF, and wood grain patterns.
Of course, we also customize aluminum windows and doors for customers in Saudi Arabia, Mexico, Thailand, etc. We customize aluminium window and door frame profiles in different sizes, thicknesses, colors or different required functions according to the standards of other countries or customer requirements. Also, we can produce finished aluminum doors and windows for you.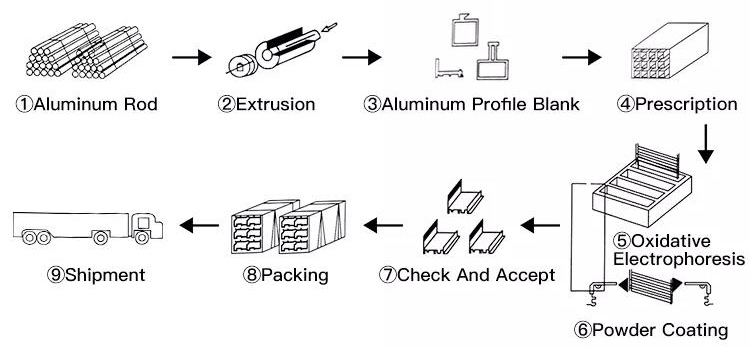 Production Process
What are the surface treatment processes of aluminum door and window frame profiles
As a supplier of aluminum door and window profiles, we know very well that customers have higher and higher expectations for the appearance of doors and windows. Therefore, Shenghai Aluminum has also invested a lot of technology in the surface treatment of aluminum profiles to meet customers' needs. So what surface treatments are often used for aluminum door and window profiles? Usually include matte, multi-color surface treatment, electrophoretic, anodizing, polishing, and other processes.
Anodizing
Anodizing can overcome defects in aluminum alloy surface hardness and wear resistance. Anodized aluminum profile, anti-static, easy to clean without dust collection, has excellent heat dissipation. Beautiful appearance, uniform color, no fading. It can also improve the bonding force between the organic coating and the inorganic covering layer. Anodizing is also the door and window surface treatment technology most favored by Shenghai Aluminum customers.
Electrophoretic spraying
Electrophoretic paint film has full, uniform, smooth, and smooth coating advantages. The electrophoretic coating is highly resistant to corrosion and weathering. It has a more decorative effect than spray paint or powder coating, which is very popular among customers.
Matte treatment
The main function is surface cleaning. Sandblasting of aluminum alloy doors and windows before painting (painting or plastic spraying) can increase surface roughness and improve adhesion to a certain extent. Still, the contribution is limited, which is better than the pre-treatment of chemical paint. The matte aluminum profile avoids the defect that the bright aluminum alloy profile will cause light interference under certain circumstances and conditions in architectural decoration. Its surface is as delicate and soft as brocade, which is very popular among customers.
Wood Grain
Wood grain transfer is a surface treatment technology that reproduces various wood grain textures on the surface of aluminum profiles. Wood grain transfer printing has excellent anti-aging, fading, corrosion resistance, and weather resistance and fully displays the beautiful wood grain texture, which is also very popular among customers.
Aluminum profile surface treatment is one of the important links in producing aluminum alloy doors and windows. Good surface treatment greatly affects the corrosion resistance, weather resistance, and service life of aluminum alloy doors and windows. With the continuous advancement of technology, Shenghai Aluminum can provide aluminum profiles with higher quality and more favorable prices for door and window suppliers.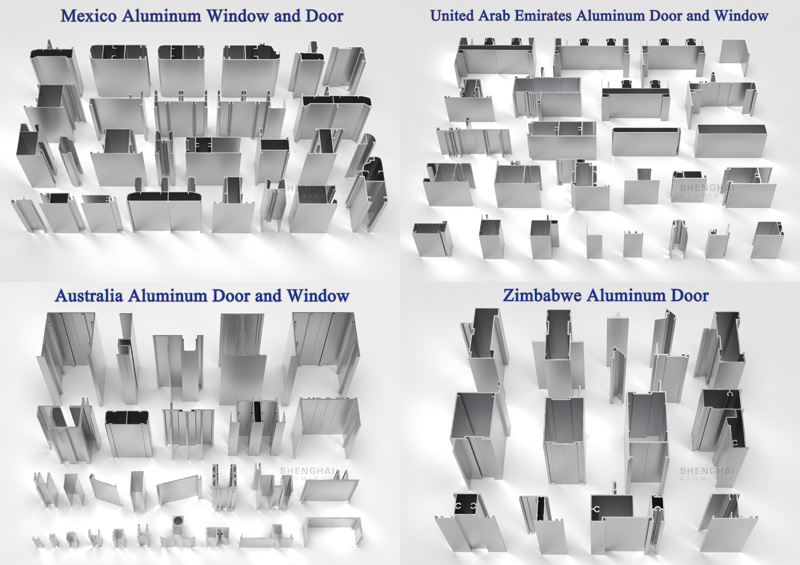 Shenghai Aluminum Door and Window profile for any Country and Region
Our Aluminum Door & Window Frame Profile Application
Aluminium office partition
Commercial door and window
Residential door and window
Curtain walls
Furniture wardrobe and kitchen cabinet
Decoration profiles
Industrial window and door
Types of Aluminum Door and Window Frame Profiles
Door: flat door, sliding door and folding door
1. Flat door has good airtightness and can effectively prevent wind, sand, dust, or other impurities from entering the house; security, aluminum alloy material, is very convenient and safe to use.
2. Sliding door has simple operation and smooth sliding; it is convenient to divide and effectively use the space of the house; it has a good sound insulation effect; it is conducive to the light and transparency of the overall indoor space.
3. Folding door
After the folding door is opened, it can be moved to the side. The room is more transparent and will appear broader. It has the functions of heat preservation and heat insulation, moisture-proof, fire-proof and flame-retardant, noise reduction and sound insulation.
| | | |
| --- | --- | --- |
| | | |
| Aluminum Flat Door | Aluminum Sliding Door | Aluminum Folding Door |
Window: sliding windows (including left and right sliding windows, up and down sliding windows), casement windows (including inner and outer windows) and top-hung windows.
1. Sliding windows has beautiful appearance; large window width, large glass block, wide field of vision, high daylighting rate; flexible and safe use; long service life; open in a plane and occupy less space;
2. Casement windows are characterized by large opening area and ventilation; good airtightness, sound insulation, heat preservation, and strong impermeability;
3. Top-hung windows are characterized by ventilation and safety. It is widely used in buildings;
4. Thermal Break Aluminum Window.
| | | |
| --- | --- | --- |
| | | |
| Aluminum Sliding Window | Aluminum Casement Window | Aluminum Top-hung Window |
What Can We Do
We can custom aluminum extrusion for door and window according to your requirement.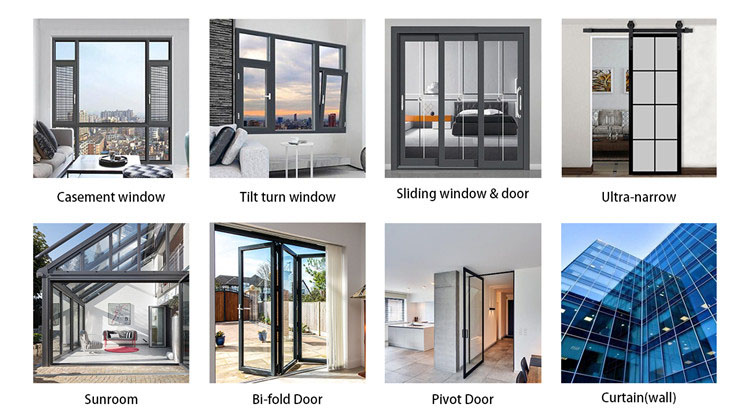 Application

Aluminum construction (window and door / wall curtain)

Material

6000 series

Temper

T3-T8

Surface Treatment

Mill-Finished, Anodizing, Powder Coating, PVDF, Electrophoresis, Wood Grain, Polishing, Brushing, etc

Colour

Silver, champagne, Bronze, Golden, Black, White, Gray, Sand coating, Anodized Acid, Alkali, and wood texture, or Customized

Length

3.0-7.2 Meters or Customized

Thickness

0.4mm-20mm or Customized

Film Standard

Anodized:7-23 μ , Powder coating: 60-80 μ , Electrophoresis film: 12-25 μ

Profile type

1. Sliding window and door profiles
2. Casement window and door profiles
3. Louver window and door profiles
4. Bi-fold window and door profiles
5. Pivot window and door profiles
6. Awning window profiles
7. Heating insulation / thermal break profiles
8. Wall curtain profiles

Shape

Square, angled, flat, hollow, oval, triangle, U-profile, L-profile, T-profiles, H-profiles, or customized available

Free Samples

About 3 workdays can be sent

Deep Processing

CNC / Precise cutting / Punching / Checking / Tapping / Drilling / Milling / Fabricating

Certification

1. ISO9001-2008
2. GB/T24001-2004/ISO 14001:2004/ GB/T28001-2001

Design

OEM or ODM is available, please send us your drawing

Packaging Details

PE film for each profile/ Shrink PE film for each bundle, Slot packing, Craft paper/ Foam Paper/Carton box

Lead time

1. 15 days production;
2. If opening new mould, 20 days.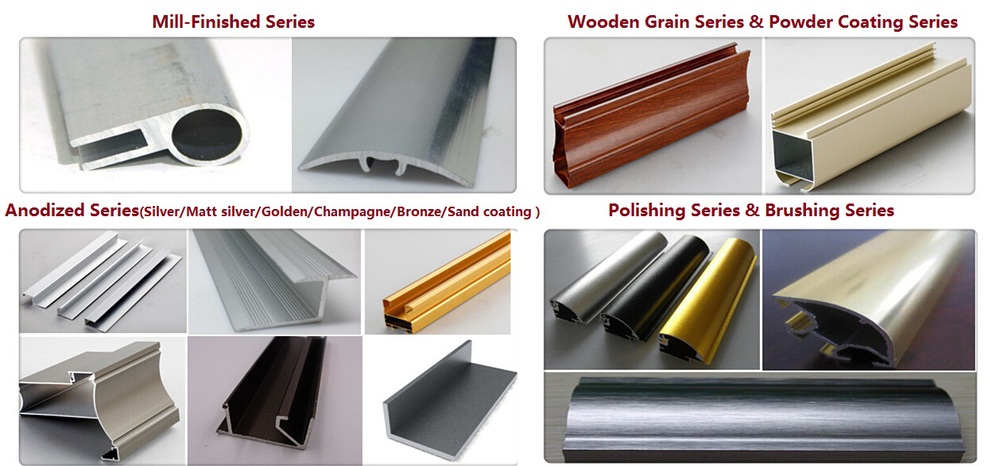 Why Choose Us As Aluminum Door and Window Frame Profiles Manufacture Supplier
Shenghai Aluminum
is the best aluminum profiles door & window and deep processing supplier.
1. We use high quality thermally broken raw materials as insulation bars. By adding an insulation bar to aluminum profiles, we form an insulation barrier to prevent heat transfer from outside and inside. The material of the insulation bar is PA66 nylon, which has good toughness and strength. Therefore, it has a good insulation effect.
2. A wide variety of finish options are available for your different coating requirements. Powder coating, anodizing and wood grain finishes are the most popular choices for extruded aluminum door & window frames.
Established over 11 years ago, our company has been one of China's best aluminum profile suppliers. And since 2011, when we started exporting our products, we have become one of the best suppliers in the world.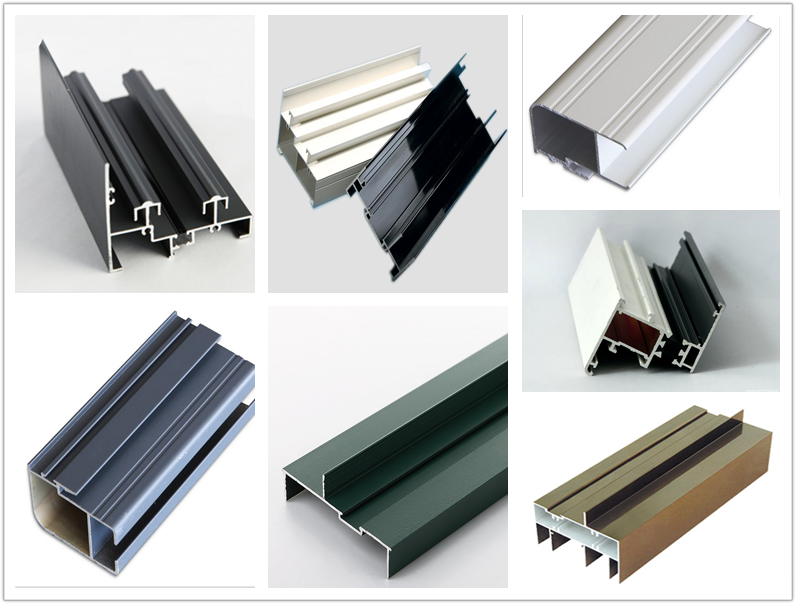 Aluminum Door & Window Frame Profile Series
We offer a wide and diverse range of windows and doors of top-notch quality, which can satisfy your house or office needs. Our interior and exterior
aluminum door and window frame profiles
are of a high value and high utility design to eliminate street noise.
We can offer aluminum door and window extrusion designs. Shenghai Aluminum has a team of design engineers ready to assist you with custom designs.
If you want to know more, please feel free to fill the inquiry form and
contact us
.