Aluminum Metal Strip Ceiling System
Updated: 11 Jan 2022
What Is Aluminum Metal Strip Ceiling
Aluminum metal ceiling is a ceiling partition decoration material that facilitates air circulation, exhaust and heat dissipation.
Aluminum strip ceiling system
is extruded through mold. Its hardness and straightness are far superior to other ceiling materials. And due to the characteristics of aluminum, it is not easy to deform and fade. The installation structure is simple. Screws and special parts connect the upper key keel and the segmented hammer. The overall structure has good stability and will not be shaken by strong winds.
Aluminum baffle ceiling systems come in a variety of styles. It has a strong visual impact. Aluminum profiles can choose different heights and spacings, one high and one low, one sparse and one dense, and the color matching are reasonable, making the design ever-changing. Since the ceiling aluminium profile has the function of hiding objects, it is possible to place lighting fixtures, air conditioning systems and fire fighting equipment in the ceiling. Perfect visuals for consistency.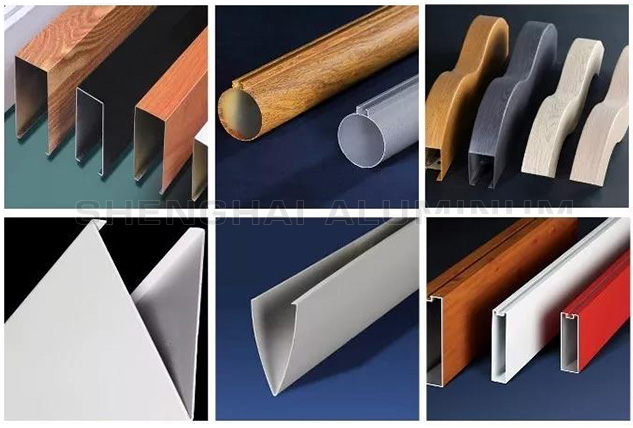 Why Choose Aluminum Metal Strip Ceiling
1. The aluminum strip ceiling has a beautiful appearance and rich colors, with clear and smooth lines, which can perfectly match a variety of decoration styles and create a different visual experience;
2. Aluminium strip false ceiling material loss is relatively low, the structure is simple, the installation method adopts the standard keel buckle structure;
3. Aluminum metal ceiling strip is easy to disassemble and assemble. Each board is separate;
4. Extruded aluminum suspended ceiling is suitable for residential and large public places. It is widely used, such as corridors, balconies, airports, railway stations, shopping malls, etc.
Aluminum Ceiling Strip Surface Treatment
At Shenghai Aluminum, we provide customers with complete solutions. According to your requirements, all aluminium extrusion profiles come with a surface treatment or finish. We have many options for anodizing, powder coating, wood grain, grinding, electrophoresis, polishing, etc.
The most popular finishes are wood grain transfer, anodizing and powder coating.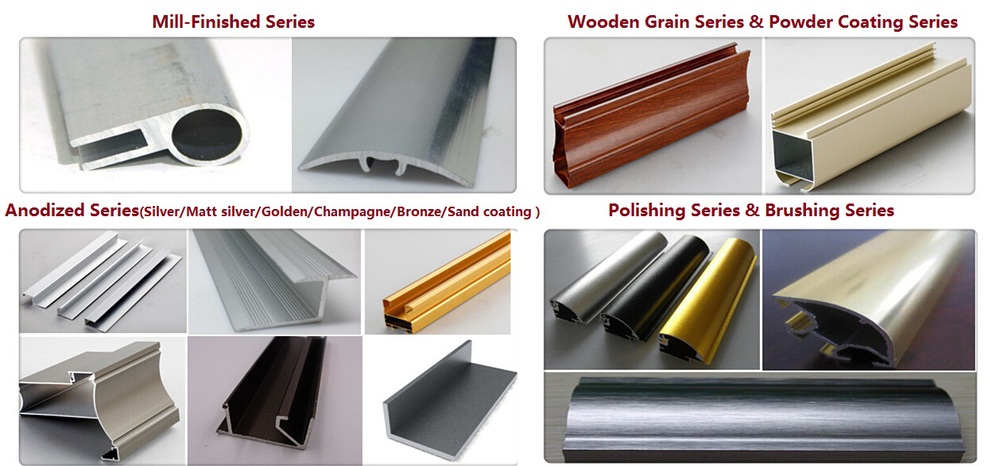 Aluminum Baffle Ceiling Categories
| | | |
| --- | --- | --- |
| | | |
| Aluminum square tube ceiling | U-shaped aluminum ceiling | V-shaped aluminum ceiling |
---
Types of Aluminum Ceilings
There are many types of aluminium ceilings, such as aluminum square ceilings, aluminum round tube ceilings, aluminum baffle ceilings, aluminum gussets, aluminum grilles, etc.
But the most popular in the market is the extruded aluminum profile ceiling. Of course, our main product is also aluminum extrusion profile ceiling. The following is a detailed introduction, the types of extruded aluminium profiles for the ceiling.
1.Aluminum rectangular tube ceiling
Aluminum rectangular tube
(U-shaped square tube, U-shaped groove) U-shaped strip, strong decorative, crisp lines.
Aluminum square tube is used in public places with many concealed works and dense crowds. It is convenient for air circulation, exhaust and heat dissipation, and at the same time, it can evenly distribute light and make the whole space spacious and bright.
Aluminum U-shaped tube ceiling is widely used in subways, high-speed rail stations, stations, airports, large shopping malls, passages, leisure places, public toilets, building exterior walls and other open places.
The aluminum square tubing ceiling is an open-type long strip hanging board composed of aluminum square tubes arranged at a distance. Long strips hang at the keel installation, which hides the keel system visually. The aluminium square tube ceiling is vertically coherent and thick, making the appearance simple and elegant with the style of the times.
Aluminum Linear ceiling specifications: bottom width 20-400 mm, height 20-600 mm, thickness 0.4-3.5 mm.
Wood grain aluminum square tubing ceiling specifications: 4080mm, 50100mm, 3050mm, 5080 mm, 100*150mm.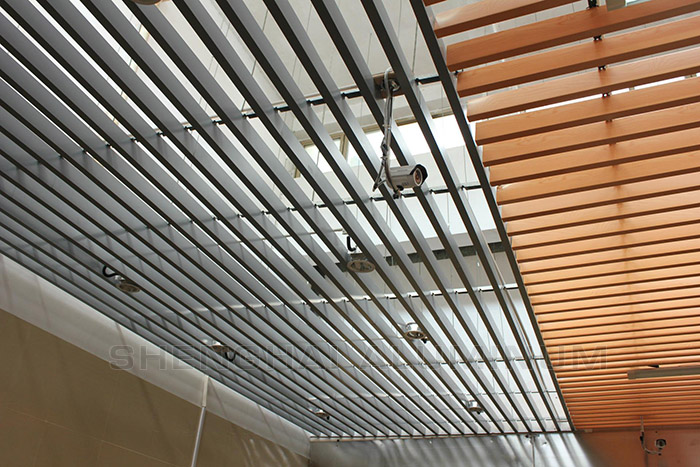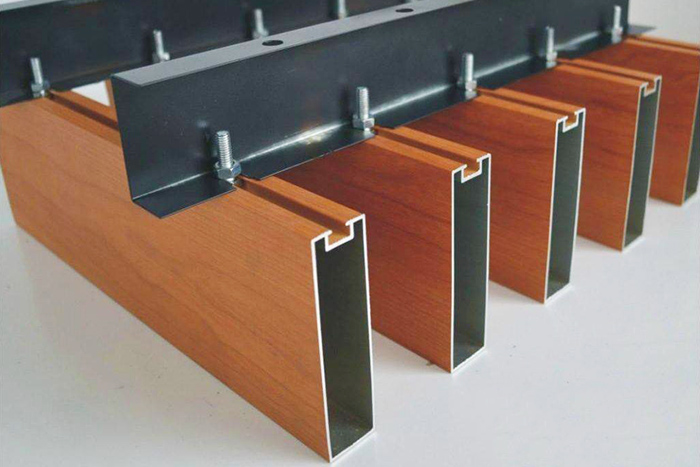 2.Aluminium round tube ceiling
Shape of
aluminum round tube
has O shape, concave groove, convex groove. Aluminum suspended round tube ceiling is easy to install and easy to maintain. Since each O-shaped aluminium round pipe is separate, it can be installed and removed without special tools, which is convenient for maintenance and maintenance.
The surface treatment of round aluminium pipe linear ceiling includes spraying, baking varnish, roller coating and laminating.
Aluminum round tube has the characteristics of lightweight, water resistance, no vacuuming, corrosion resistance, easy scrubbing, easy installation, strong three-dimensional effect, soft color and beautiful appearance.
Aluminum round tubing ceiling application: office, hotel, household, dust free room, public.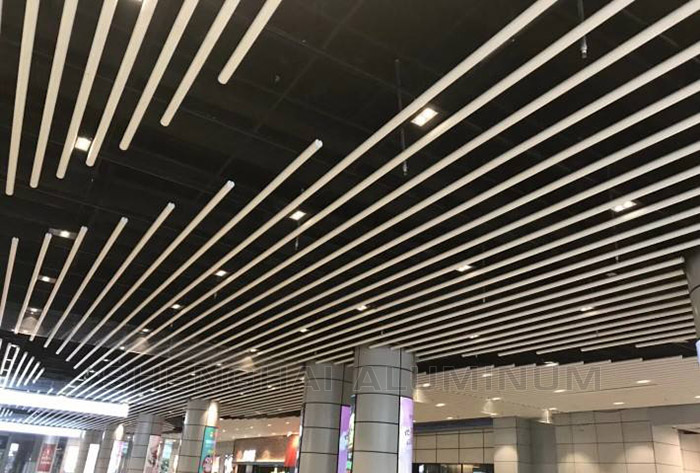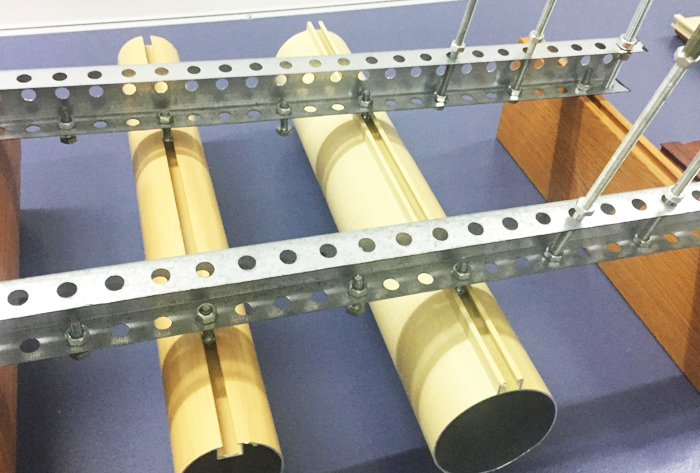 3.Aluminum metal baffle ceiling
Aluminum metal baffle linear ceiling has an open field of vision, making people extremely open-minded, ventilated and breathable, with clear lines and distinct layers. The installation effect of aluminum hanging pieces is simple and clear, a modern art style. The color of the aluminum hanging piece ceiling is diversified. Woodgrain is the most popular colour now, and it is also a color that highly imitates the atmosphere of nature. It can make people feel the existence of nature even in the tiring work.
Application: subway, high-speed rail station, station, airport, large shopping mall, passage, leisure place, public toilet, exterior building wall and other open places.
C-shaped strip ceiling
The c shape aluminum baffle ceiling installation structure is very simple and suitable for interior decoration.
Size
Width: 50mm, 100mm, 150mm, 200mm, 300mm or customized
Thickness: 0.4-1.0mm
Introduction of V-shaped buckle ceiling (bullet linear ceiling)
The
aluminum V-shaped buckle ceiling
creates a space-oriented effect with a modern feel. Different mounting systems can achieve different effects. It can be freely matched with closed and seamed installations to achieve different design effects quickly. The system structure is simple and practical.
Suitable for indoor offices, public places, home kitchen bathrooms and outdoor ceilings, wall decoration.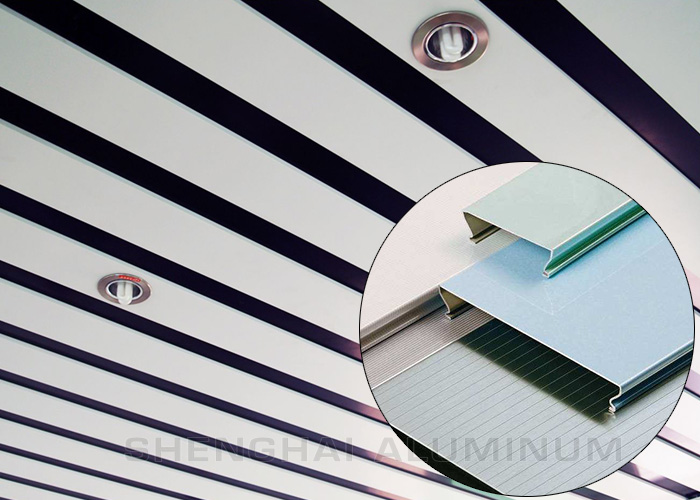 4.Aluminum grill ceiling
Aluminum metal grill ceiling features open view, ventilation, breathability, sound insulation. Its crisp and neat lines, with distinct layers, reflect a simple and clear modern style. The installation and disassembly are convenient and straightforward, and it has become the main product in the decoration market. Aluminum ceiling grid can be mainly divided into groove aluminum grille and aluminum grille ceiling panels.
Application: hotels, shopping malls, commercial buildings, administrative buildings, supermarkets and other public places.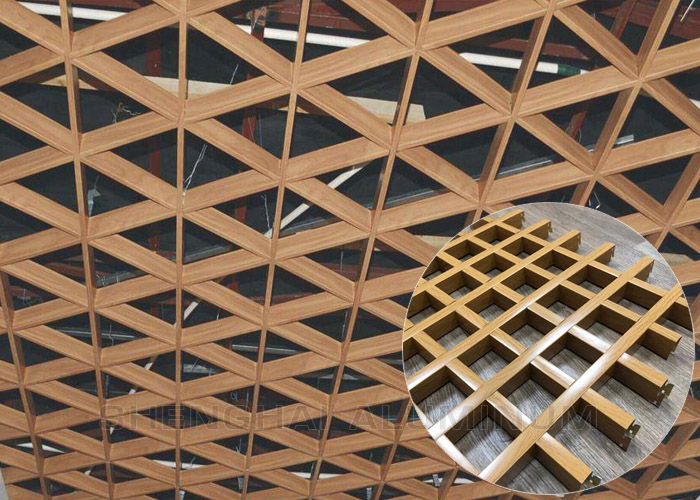 ---
How to Install Aluminum Strip Ceiling
1. According to the design requirements, the aluminum strip ceiling should be drawn according to the installation node diagram, and the suspension rods are fixed on the ceiling with expansion screws. Generally, the distance between the suspension rods is 1.1 m, and the aluminium square tube with a large size has a density of aluminum strip ceiling. Correspondingly increased, the height of the boom should be uniform;
2. Fix the aluminum tube strip ceiling keel on the boom. The boom is fixed by the hole nut on the square keel to adjust the height;
3. Fix the aluminum baffle strip ceiling on the keel. The keel is customized according to the spacing required by design. When installing, snap the aluminum suspended ceiling into the corresponding floss of the keel.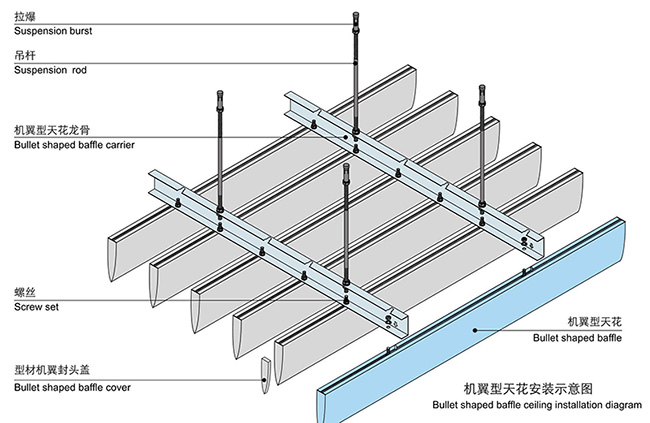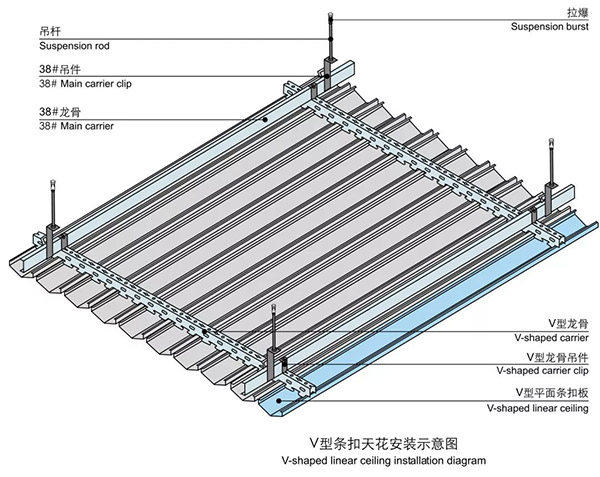 ---
Aluminum ceiling wood grain color production process
The appearance of wood grain aluminum baffle ceiling, compared with natural wood grain, wood grain aluminium strip false ceiling is very realistic in terms of texture and color. Therefore, the wood grain colour is very popular with customers.
1.Aluminum baffle ceiling-spray background color
Cleaning and degreasing the impurities on the aluminum surface - drying and cleaning the aluminum square pass ceiling - electrostatic powder spraying - high-temperature furnace treatment - spraying wood grain background color.
2.aluminum strip ceiling panel-sticker
The wood grain paper is pasted in the wood grain workshop, and the wood grain paper of the relevant pattern is pasted on the aluminum square ceiling with the wood grain background color first. In the process of pasting, care should be taken to ensure no impurities on the wood grain paper, the surface is flat, and no bubbles can appear on the surface.
3. High temperature blast furnace
In this process, attention should be paid to controlling the temperature of the aluminum square pass ceiling. If the temperature is too high, the color will darken, and the colour will become lighter if the temperature is too low. Therefore, we provide customers with satisfactory products by controlling the temperature to the right state.
4. Tear the paper
Tear off the wood grain paper you just pasted and let the aluminum strip ceiling dry. Finally, the finished product of aluminum profiles ceiling.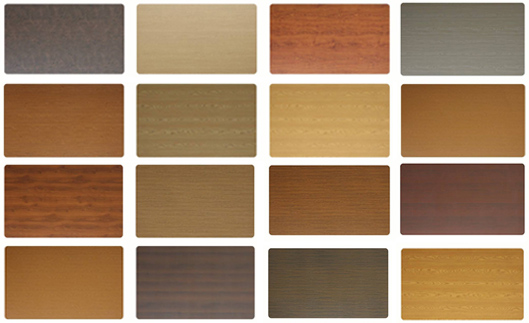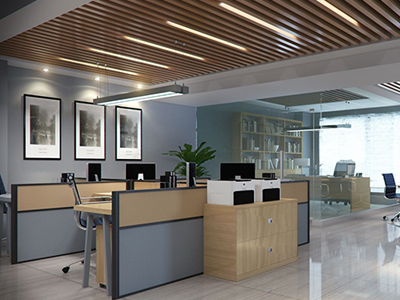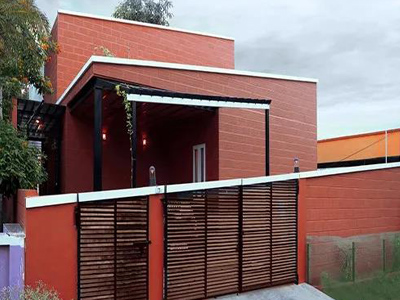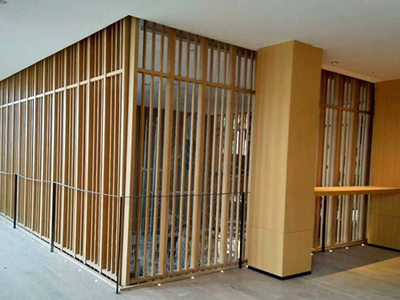 China Shenghai aluminum manufacturing plant produces aluminum ceilings for interior and exterior use. The product series includes lay-in ceiling, clip-in ceiling, baffle ceiling, straight ceiling. We also produce solid aluminium cladding panels for exterior walls. Surface treatments can be powder coating, PVDF coating, pre-coating and anodizing.
If you have any needs, please feel free to
contact our team
. They will provide you with the perfect aluminum ceiling product solution.