Metal Aluminum Edge Trim Factroy
Updated: 17 Dec 2021
Professional Aluminum Edge Trim Factory - Shenghai Aluminum
Because
Aluminum edge trim
has a very modern style decorative effect, it is very popular in the decoration industry. Our aluminum alloy edging trim main types and applications are introduced below.
What is Aluminum Edge Trim
Shenghai Aluminum aluminium extrusion trim is available in many standard sizes. We also welcome customs to meet your needs. We can cut to length, punch, drill, tap and weld. Our aluminum edge trim team will assist you in designing and creating your product to finalize production.
Our most popular aluminum trim decorations include tile, flooring and carpet, available in various finishes such as satin, bronze and anodized, similar to the look of chrome. Aluminium trim is also available in grooved or fluted and smooth-faced versions. These trims are most commonly used in commercial applications for kitchen counters, tables and restaurant furniture.
Extruded
aluminum trim
can be used to edge and decoration. For example, floor trimming, carpet edge, staircase decoration, furniture edging, wardrobe door decoration, corner edging, gusset decoration, etc., are lightweight, corrosion-resistant, wear-resistant, non-fading, non-oxidized, good polishing effect, toughness higher characteristics.
What are Types of Aluminum Edge Trim
In daily life, you can find aluminum trim anywhere. Because aluminum edge is used for trimming and decoration, it is widely used and requires many types.
At present, there are many types of aluminum alloy trimming strips that we can provide. Aluminum trim can be adjusted to the type, color, and quality customers require through SHENGHAI aluminum extrusion and deep processing factory.
Aluminum edge trim catalog
Name

Aluminum Trim

Material

Aluminum Alloy

Temper

T3~T8

Specification

Length: 2.4/2.5/2.6/3.0m; Thickness: 0.3-3.0mm; Height: 7/8/8.3/8.5mm
Color: Silver/ Gold/ Black/ Wood Grain/ Champagne

Punching Hole Shape

Square/ Round/ Triangle/ Star/ Heart/ Diamond/ Letters

Surface Treatment

Anodizing, Mill finish, Electroplating, Polishing, Sand blasted, Powder coating, Silver plating, Brushed, Painted, PVDF etc.

Deep processing

CNC, drilling, milling, cutting, stamping, welding, bending, assembling, or Customized

Application

Protecting & Decorating the edges of tile, marble, UV board, glass, ect.

Certification

ISO, CE

Service

1. Free sample, Free design;
2. OEM/ODM available;
3. Custom-made request;
4. New design solution suggestion

Packaging

PE film for each profile/ Shrink PE film for each bundle, Slot packing, Craft paper/ Foam Paper/Carton box

---
Common Types of Aluminum Profile Trim Shape
1. U Channel Aluminum Trim
U channel edge trim has the function of decorating the rough edges of unfinished processing. Used in wooden doors, cabinet doors, background walls, waistlines and wall decorations.
2. Aluminum T Trim
T-shaped edging trim has a good transition and protection effect. It is often used on the edge of tiles (direct connection of transition tiles or protection of tile edges), furniture.
3. Aluminum Hat Channel Edge
Hat aluminum edge is usually used as a building decoration product, which is used as a decorative partition between wallboard, gypsum board and ceramic tiles.
4. Aluminum J Cap Edge Trim
Aluminum extrusion j channel trim is used for architectural decoration.
5. Z Channel Aluminum Edging
Z channel edge is used for various purposes, including display areas and wall panels.
6. H Aluminum Edge
Aluminum H-shaped edge is used in furniture, windows&doors, decorations, industry, construction, etc.
7. Corner Round Aluminum Trim
Our aluminum corner round channel trim is used in LED lighting installations. Of course, it can also be used in tiles, cabinets, furniture and more.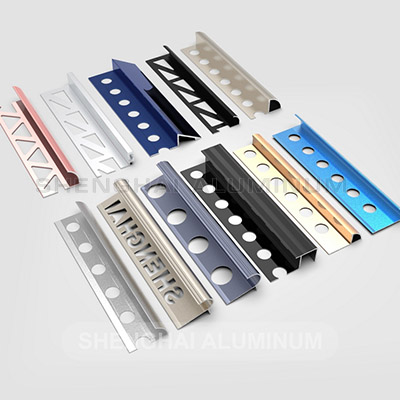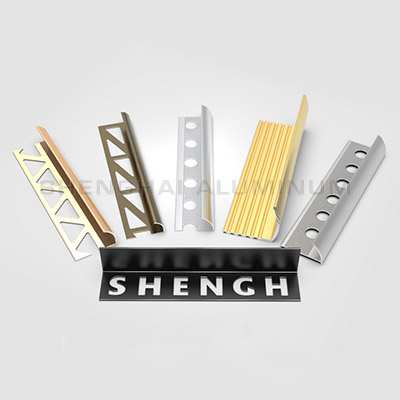 ---
Aluminum Extrusion Trim Application
Aluminum profile trim for tiles
Aluminum tile trim strip is generally used to decorate the corners of two tiles, playing the role of anti-collision protection and beautification. At the same time, aluminum tile edging strip can complement the seamless splicing of various shapes between tiles.
Commonly used tile trim shapes are round shape trim, corner edge, T shape edging trim, L shaped tile trim, etc.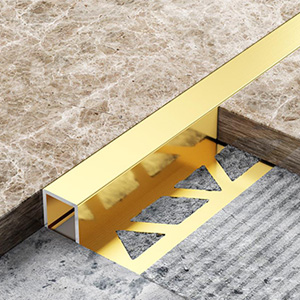 Aluminum trim for tile floor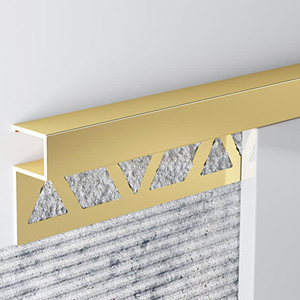 Aluminum edge for tile wall waist line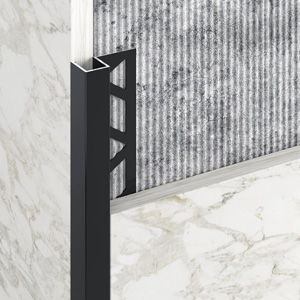 Aluminum profile trim for tiles
Aluminum floor transition trim strip
Aluminium floor transition strip is a decorative material. Its main function is to solve floor closure, connection, transition, and bonding interface problems. The installation of aluminum transition strip can protect the edge of the floor from abrasion and play the role of connection, protection and decoration. The transition bar makes the whole more neat and beautiful.
Nowadays, floor transition strips have been widely used in our daily life, such as shopping malls, hotels, companies, homes, etc.
1. Uses of aluminum floor trim;
2. The gap between the floor and the wall;
3. Flooring and fixed furniture, such as wardrobes, desks, etc. made on-site or as a whole;
4. The gap between the floor and the threshold stone.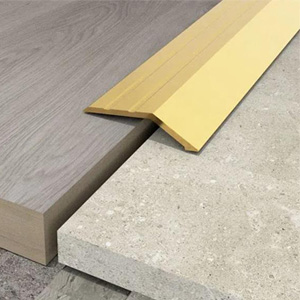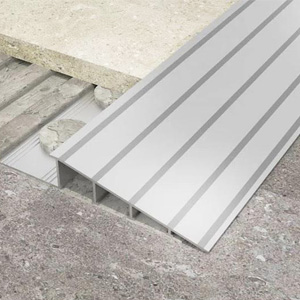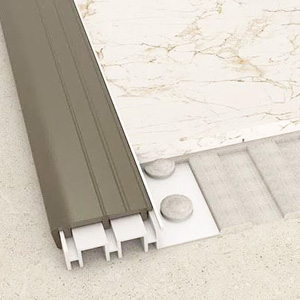 Aluminium carpet edge decoration
The aluminum carpet edge strip connects and transitions between carpet of differentthicknesses to use. Its main function protects the edge of the carpet, preventspedestrians from slipping, keep the ground level, and has a decorative effect.
Aluminium Listello Trim
The aluminium listello trim offers a decorative border between tile on the wall and floorcoverings. Aluminium listello trim is anchored in the mortar bond between tile courses.
Aluminum Stair Trim
Aluminum edge trim is used in stairs to protect the surface of the stairs from damage, prevent people from sliding up and down the stairs and injure people, and can decorate the stairs.
Aluminum skirting baseboards
Aluminium skirting profile
is a new type of modern decoration product. It plays the role of visual balance, beautification and protection of corners and ground in the decoration space.
Other aluminum decoration trim
It can be used for countertop aluminum trim, TV background wall decoration edging, wardrobe cabinet decoration trim, decorative painting, decorative mirror frame edge, etc.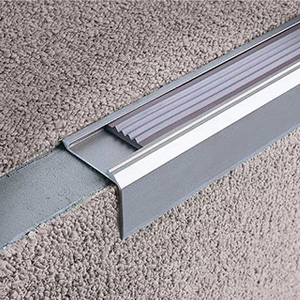 Aluminum carpet trim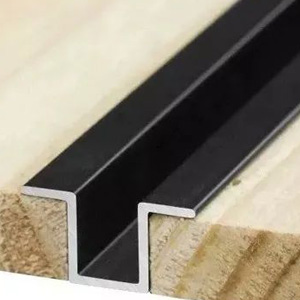 Aluminum listello trim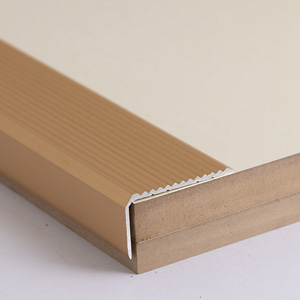 Aluminum stair edge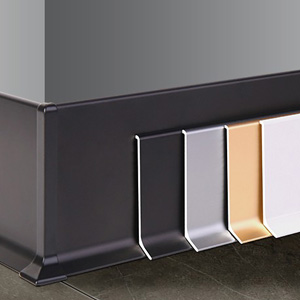 Aluminum skirting baseboards
---
SHENGHAI Aluminum Trim FQAs
1.
What aluminum series is Aluminum trim made of?
Made of aluminum 6063-T5
2.
What sizes are available for Shenghai aluminum trim?
Length: 2.4m, 2.5m, 2.6m, 3.0m or customized;
Height: 4cm, 5cm, 6cm, 7cm, 8cm, 10cm or customized;
Thickness: 0.75mm, 1.0mm, 1.2mm, 1.33mm, 1.5mm or customized.
3.
What are the colors of Aluminum edge
Color: silver matte, champagne, bronze, golden, black anodized, wood grain, sand coating, anodized acid and alkali or customized.
If you need to spray on-site, you can also use primer finishes.
4.
Can Aluminum extrusion trim be used in places with salty water, dampness and rain?
As long as the aluminum profile undergoes deep processing (such as surface treatment, anodized, and powder coated), corrosion will be resistant. Because the aluminum alloy profile undergoes surface hardening treatment, a hardened protective layer will be formed. Moreover, aluminum is easily oxidized, and an oxide film is formed on the surface, which has a protective effect on the inside.
So these places can use aluminum trim.
5.
How to install aluminum trim
The aluminum alloy decorative line can be installed without nails in some places. Self-adhesive glue, matching glass glue or other glue.
You can use self-adhesive metal screws or aluminum nails to fix the aluminum trim.
Installation method of aluminum skirting board
6.
Where do aluminum edge trim customers come from?
Europe, the United States, Finland, Australia, Singapore, Malaysia, New Zealand, Mexico, etc.
Successful Customer Story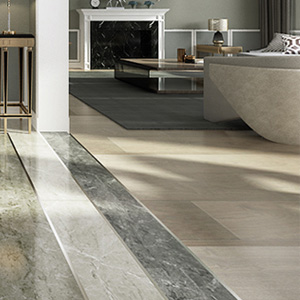 Aluminum trim for floor tiles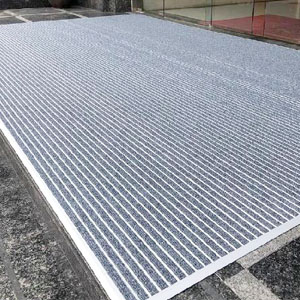 Aluminium strip for carpet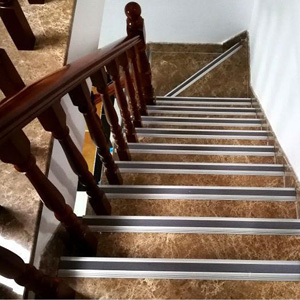 Aluminum transition strip for stair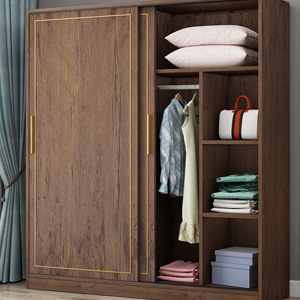 Aluminium trim for wardrobe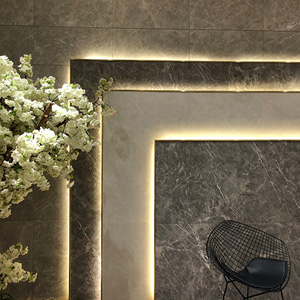 Aluminum edge strip for LED light
Summarize
Because aluminum extrusion trim strip can protect not only your tiles, carpet, wall panels, furniture, etc. but also decoration.
You can
contact us
today for custom aluminum profile edging trim.