Deep Slim Minimalistic Series Aluminum Profiles for Wardrobe and Cabinet
Place of Origin:
Guangdong, China (Mainland)
Application:
Wardrobe, Cabinet
Surface Treatment:
Mill finish, powder coated, anodized, electrophoresis, Polishing
Machining:
High Precision CNC Machining
Deep Process:
Precise cutting, drilling, milling, fabricating
Quality Standard:
GB 5237-2008
CONTACT NOW
Deep Slim / Minimalistic Series is well accepted by many countries' markets.
Shenghai Aluminium Profile Manufacturers is development partner and producer of a variety of aluminium solutions, with a special focus on aluminium profile cabinet and wardrobe. As an OEM-producer our range of services includes not only extrusion of aluminium profiles, the highly decorative quality as well as a client-related surface design are in focus of our attention.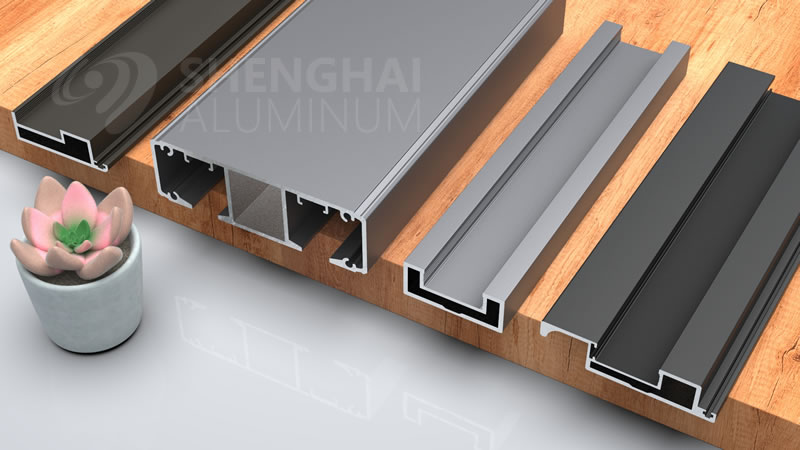 Packaging Details
PE film for each profile/ Shrink PE film for each bundle, Slot packing, Craft paper/ Foam Paper/Carton box
Product Detail
Material & Temper
Alloy 6063-T5,6061-T6 , We will never use aluminum scrap.
Surface Treament
Mill-Finished, Anodizing, Powder Coating, Electrophoresis, Wood Grain, Polishing, Brushing, etc.
Colour
Silver, Champage, Bronze, Golden, Black, Sand coating, Anodized Acid and alkali or Customized.
Film Standard
Anodized:7-23 μ , Powder coating: 60-120 μ , Electrophoresis film: 12-25 μ.
Lifetime
Anodized for 12-15 years outdoor, Powder coating for 18-20 years outdoor.
MOQ
500 kgs. Usually 10-12 tons for a 20'FT; 20-23 tons for a 40HQ.
Length
5.8M or Customized.
Thickness
0.4mm-20mm or Customized.
Application
Building and Construction and Decoration.
Extrusion Machine
600-3600 tons all together 6 extrusion lines.
Capability
Output 1000 tons per month.
Profile type
1. Sliding window and door profiles;
2. Casement window and door profiles;
3. Aluminum profiles for LED light;
4. Tile Trim Aluminum profiles;
5. Curtain wall profile;
6. Aluminum heating insulation profiles;
7. Round/Square General profiles;
8. Aluminum heat sink;
9. Others Industry profiles.
New Moulds
Opening new mould about 7-10 days, absolutely moulds cost can be refund.
Free Samples
Can be available all the time, about 1 days can be sent.
Fabrication
Die designing→ Die making→ Smelting & alloying→ QC→ Extruding→ Cutting→ Heat Treatment→ QC→ Surface treatment→ QC→ Welding→ Packing→ QC→ Shipping→ After Sale Service
Deep Processing
CNC / Cutting / Punching / Checking / Tapping / Drilling / Milling
Certification
1. ISO9001-2008/ISO 9001:2008;
2. GB/T28001-2001(including all the standard of OHSAS18001:1999);
3. GB/T24001-2004/ISO 14001:2004;
4. GMC.
Payment
1. T/T: 30% deposite, the balance will be paid before delivery;
2. L/C: the balance irrevocable L/C at sight.
Delivery time
1. 15 days production ;
2. If opening mould, plus 7-10 days.
OEM
Available.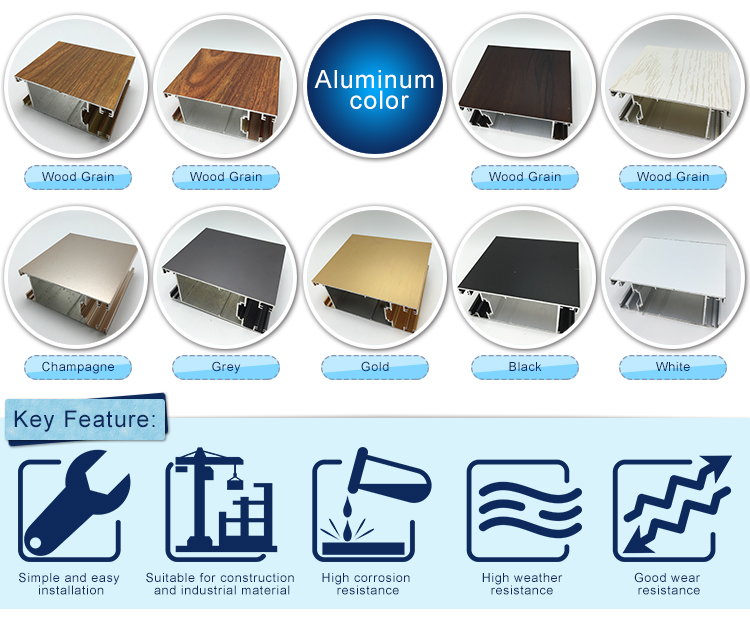 Table of Chemical Composition of Aluminum Alloy
Alloy
Si
Fe
Cu
Mn
Mg
Cr
Zn
Ti
Impurity
Al
Unit
Total
6063
0.2-0.6
<0.35
<0.1
<0.1
0.45-0.9
<0.1
<0.1
<0.1
<0.05
<0.15
Surplus
6061
0.4-0.8
0.7
0.15-0.4
<0.15
0.8-1.2
0.04-0.35
<0.25
<0.15
<0.05
<0.15
Surplus
6005
0.6-0.9
<0.35
<0.1
<0.1
0.4-0.9
0.1
<0.1
<0.1
<0.05
<0.15
Surplus
6060
0.3-0.6
0.35-0.6
0.1-0.3
<0.1
<0.1
<0.15
<0.05
<0.1
<0.05
<0.15
Surplus
Send an Enquiry