40x40 Aluminum Rail for Solar Panel Mounting
Color:
Sliver Anodizing or Customized
Free Samples:
About 1 days can be sent
Supply Ability:
1200-1600 tons per month
Product Origin:
Foshan China
Shipping Port:
Shenzhen/Guangzhou/Foshan
CONTACT NOW
Product Description
Solar panel installation typically requires using aluminum rails (also known as solar mounts or mounts). Aluminum rail is a bracket system used to fix solar panels, its main function is to provide stable support and adjust the angle of the panels to absorb sunlight to the greatest extent.
We can provide various types of rails according to different strength requirements;

The aluminum rail is made of high-durability Best AL6005-T5 material, ensuring a 10-year warranty and 25-year service life;

Aluminum profile is lightweight, easy to install, and has an anti-corrosion function;

Our smart patented rail design uses a "tilted module" that can easily slide in at any position on the rail.
Size: 35mm×35mm, 40mm×40mm, 50mm×50mm or customized;
Surface treatment: anodized, powder coated, electrophoretic coating;
Color: black, white, silver, mill finish, or customized;
Shape: C, H, L, U, Z shape or customized.
Advantage of aluminum rail solar panel
1. Corrosion resistance and strong oxidation resistance;
2. Strong strength and firmness;
3. Strong tensile strength;
4. High elasticity, rigidity and metal fatigue value;
5. Convenient transportation and installation, even if the surface is scratched, it will not oxidize, and does not affect performance;
6. It can adapt to various environments through convenient selection of different materials;
7. The service life is more than 25 years.
Product Application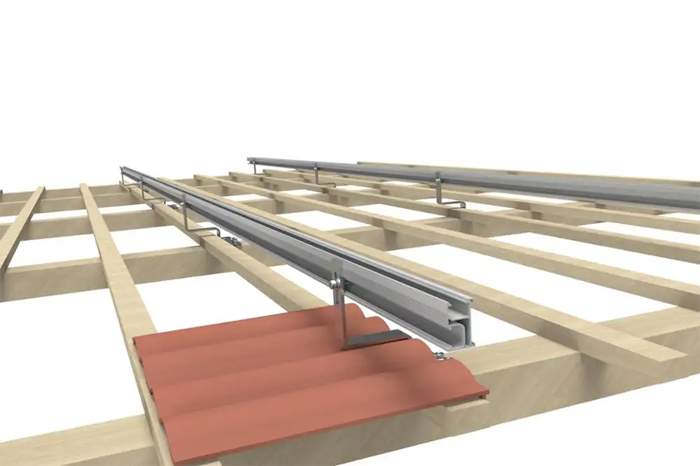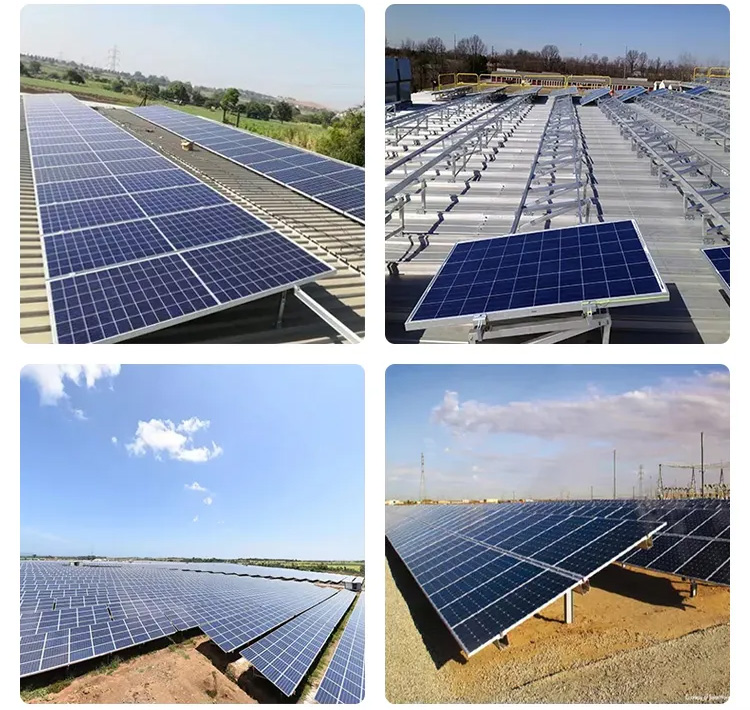 Packaging Details
PE film for each profile/ Shrink PE film for each bundle, Slot packing, Craft paper/ Foam Paper/Carton box
Product Detail
Material & Temper
Alloy 6063-T5,6061-T6 , We will never use aluminum scrap.
Surface Treament
Mill-Finished, Anodizing, Powder Coating, Electrophoresis, Wood Grain, Polishing, Brushing, etc.
Colour
Silver, Champage, Bronze, Golden, Black, Sand coating, Anodized Acid and alkali or Customized.
Film Standard
Anodized:7-23 μ , Powder coating: 60-120 μ , Electrophoresis film: 12-25 μ.
Lifetime
Anodized for 12-15 years outdoor, Powder coating for 18-20 years outdoor.
MOQ
500 kgs. Usually 10-12 tons for a 20'FT; 20-23 tons for a 40HQ.
Length
5.8M or Customized.
Thickness
0.4mm-20mm or Customized.
Application
Building and Construction and Decoration.
Extrusion Machine
600-3600 tons all together 6 extrusion lines.
Capability
Output 1200 tons per month.
Profile type
1. Sliding window and door profiles;
2. Casement window and door profiles;
3. Aluminum profiles for LED light;
4. Tile Trim Aluminum profiles;
5. Curtain wall profile;
6. Aluminum heating insulation profiles;
7. Round/Square General profiles;
8. Aluminum heat sink;
9. Others Industry profiles.
New Moulds
Opening new mould about 7-10 days, absolutely moulds cost can be refund.
Free Samples
Can be available all the time, about 1 days can be sent.
Fabrication
Die designing→ Die making→ Smelting & alloying→ QC→ Extruding→ Cutting→ Heat Treatment→ QC→ Surface treatment→ QC→ Packing→ QC→ Shipping→ After Sale Service
Deep Processing
CNC / Cutting / Punching / Checking / Tapping / Drilling / Milling
Certification
1. ISO9001-2008/ISO 9001:2008;
2. GB/T28001-2001(including all the standard of OHSAS18001:1999);
3. GB/T24001-2004/ISO 14001:2004;
4. GMC.
Payment
1. T/T: 30% deposite, the balance will be paid before delivery;
2. L/C: the balance irrevocable L/C at sight.
Delivery time
1. 15 days production ;
2. If opening mould, plus 7-10 days.
OEM
Available.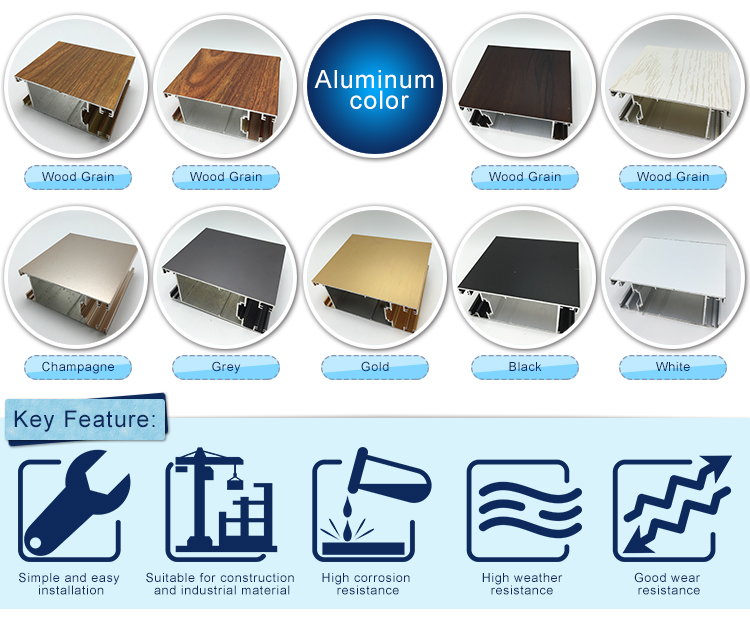 Table of Chemical Composition of Aluminum Alloy
Alloy
Si
Fe
Cu
Mn
Mg
Cr
Zn
Ti
Impurity
Al
Unit
Total
6063
0.2-0.6
<0.35
<0.1
<0.1
0.45-0.9
<0.1
<0.1
<0.1
<0.05
<0.15
Surplus
6061
0.4-0.8
0.7
0.15-0.4
<0.15
0.8-1.2
0.04-0.35
<0.25
<0.15
<0.05
<0.15
Surplus
6005
0.6-0.9
<0.35
<0.1
<0.1
0.4-0.9
0.1
<0.1
<0.1
<0.05
<0.15
Surplus
6060
0.3-0.6
0.35-0.6
0.1-0.3
<0.1
<0.1
<0.15
<0.05
<0.1
<0.05
<0.15
Surplus
Leave a Message