What Are The Different Aluminum Extrusion Profiles
Updated: 12 Sep 2023
What is aluminum extrusion profile
Aluminum extrusion profiles
are aluminum components formed by forcing heated aluminum rods through specially designed molds to create various shapes and cross-sections. This extrusion process enables the manufacturing of aluminum alloys in a variety of complex geometric shapes, including angle aluminum, G-shapes, U-shapes, H-shapes, T-shapes, tubing, cylinders, and more.

Extrusion Profile vs Common Profile
Different processes:
Extrusion profiles are created using a process where metal material is extruded through a single or multiple porous dies at high temperatures, making their production process relatively complex. Common profiles, on the other hand, are shaped through processes like cold bending or cold rolling and do not require heat treatment during manufacturing, making their production process simpler.
Different precision in dimension setting:
Because extrusion profiles are produced using hot extrusion technology, they can achieve precise manufacturing of complex shapes with high dimensional accuracy, excellent surface smoothness, and high processing efficiency. Common profiles, on the other hand, have a relatively simple production process and lower dimensional accuracy.
Different applications:
Extrusion profiles are mainly suitable for various small components, connectors, linear guides, braking systems, and more in applications such as:
Construction: door and window frames, home decor, framing, aluminum alloy curtain walls, etc.
Transportation: ship structures, vehicle bodies, carriages, etc.
Mechanical: factory automation, gearboxes, hydraulic cylinders, etc.
Common profiles, on the other hand, are suitable for applications in areas like home furnishings, appliances, doors, windows, etc.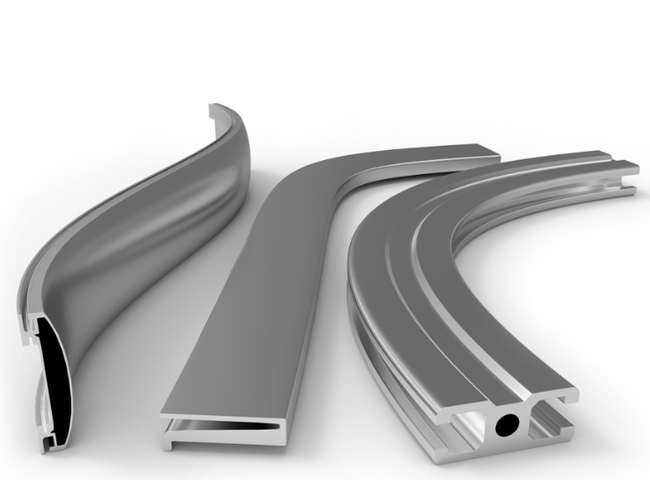 Aluminum Extrusion Profile Features
Extruded aluminum profiles
can be customized to a great extent based on customer requirements and specific application needs, offering variations in terms of shape, dimensions, materials, surface treatments, and usage.
Profile shape: Extruded aluminum profiles can be manufactured in various shapes, including angle aluminum, round tubes, square tubes, T-profiles, H-profiles, U-profiles, cylinders, and more. Different shapes are suitable for different application requirements.
Profile dimensions: Extruded aluminum profiles can be customized to different dimensions according to customer needs, including length, width, thickness, and other aspects.
Aluminum alloy materials: Different aluminum alloy materials have distinct physical and chemical properties, affecting the performance of extruded aluminum profiles. Common aluminum alloys include 6061, 6063, 7075, and more.
Surface treatments: Extruded aluminum profiles can undergo various surface treatments such as anodizing, painting, electrophoretic coating, powder coating, etc., to provide different appearances and durability.
Usage: Different extruded aluminum profiles are suitable for various application fields, such as construction, automotive manufacturing, aerospace, electronics, furniture manufacturing, etc. Therefore, the profile's usage also influences its design and manufacturing requirements.