Aluminum Profiles Applications
Updated: 7 Apr 2021
Foshan Shenghai Aluminum is a major aluminum profile manufacturer and supplier in China. Established in 2010, Shenghai Aluminum is an ISO-certified company. We specialize in custom-made and high-quality aluminum profiles for window and door, aluminum extrusion profiles, kitchen cabinets, aluminum tile trims, floor edges, or carpet covers, aluminum frames, aluminum profiles for furniture, and industrial aluminum profiles based on the requirements and demands of our clients. The goods are recognized and valued by all customers due to their wide variety, high quality, fair pricing, and trendy styles.
Aluminum Profiles
Aluminum profiles are by-products that are typically used in structural applications. They have a wide range of applications and are known for their high commonality, environmental safety, ease of installation and disassembly, and long service life. Based on their use, there are three types of profiles.
Industrial profiles
In industry, aluminum profiles are used for a variety of applications such as cable channel services, heat sinks, air conditioning, cabinets, and furniture to name a few.
Construction profiles
These include structures for operating platforms, frames for solar panels, etc.
Architectural profiles
These are used to build window, door, and curtain wall structures, etc.
Extrusion is the most common technique for generating aluminum profiles with uniform sections. This approach enables the production of high-quality goods at a low cost. Aluminum extrusion is a method of converting aluminum alloy into objects with a specified cross-sectional profile for a variety of applications. The distinct physical properties of aluminum are exploited in the extrusion process. The malleability of aluminum allows it to be quickly machined and cast, but since it has a density and hardness that is one-third that of steel, the resulting products are not as strong and stable as steel products.
Applications
Aluminum and its alloys are widely used for a variety of applications due to distinctive properties of extruded aluminum, like high strength-to-weight ratio, corrosion resistance, thermal and electrical conductivity, etc.
Electrical
Extruded aluminum is used in electrical panels and other electrical systems because it is a good heat conductor. These can also be used for thermal management and in solar panel support structures. Shenghai Aluminum supplies a variety of Thermal Break Aluminum Profiles which are used in an assembly to minimize or avoid the flow of thermal energy between conductive materials.
| | |
| --- | --- |
| | |
| Thermal Break Aluminum Profile (Windows) | Thermal Break Aluminum Frames |
Construction and Architecture
Aluminum profiles are used in elevator shafts, building skeletons, ladders, structural, and mechanical applications. These profiles can withstand heavy loads and shock impacts due to their flexibility.
Industrial
Aluminum is rust and corrosion resistant so it is widely used in industries. Shenghai Aluminum produces aluminum profiles for production lines, modular assembly systems, and various other industrial aluminum profiles.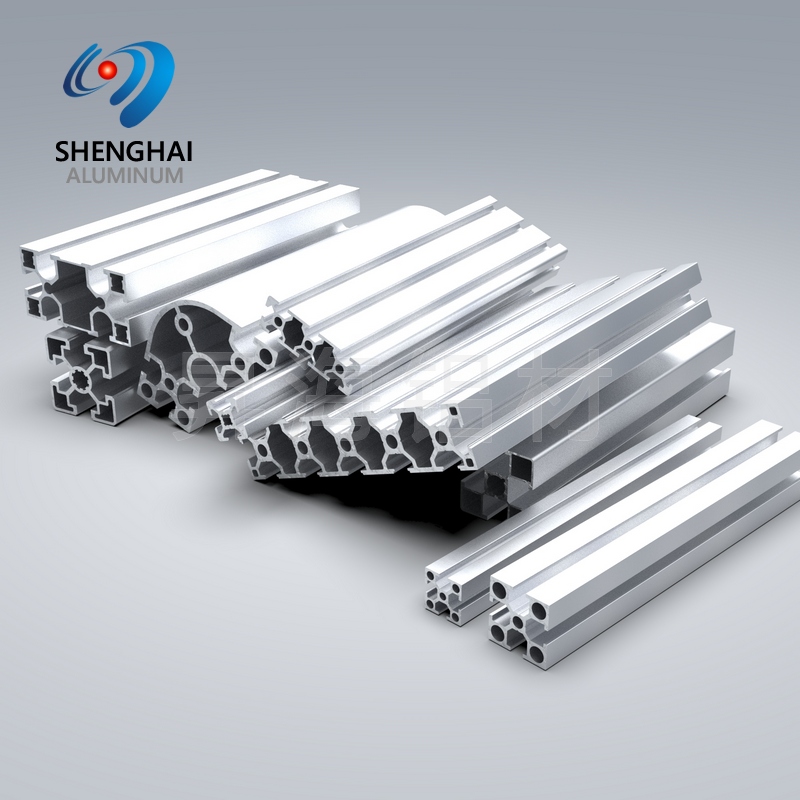 Industrial Aluminum Profile for Production Lines
Transportation
Due to their lightweight property, aluminum profiles are used widely in trailers and airplane parts manufacturing.
Processing Products
Aluminum profiles are widely used in making inventory cabinets, picture frames, and picture frames. Shenghai Aluminum supplies various deep processing products such as customized CNC aluminum parts, train door frames, heat sinks, and aluminum handles for cabinets and wardrobes, etc. The aluminum frames are also available in baked-on/anodized finishes for long-lasting color.
| | | |
| --- | --- | --- |
| | | |
| Train Door Frames | CNC Aluminum Parts | Heat Sinks |
| | |
| --- | --- |
| | |
| Handles for Wardrobes and Cabinets | Deep Processed Aluminum Handles |
Aluminum Profiles for Cabinet and Wardrobe
Shenghai Aluminum has a variety of aluminum profiles for wardrobe and kitchen cabinets specific to market requirements of various countries. These are certified alloy profiles with a lifetime of 12-15 years almost for every type of profile available for kitchen cabinets and wardrobes. All of our profiles are anodized, mill finished, and powder coated to enhance their surface properties.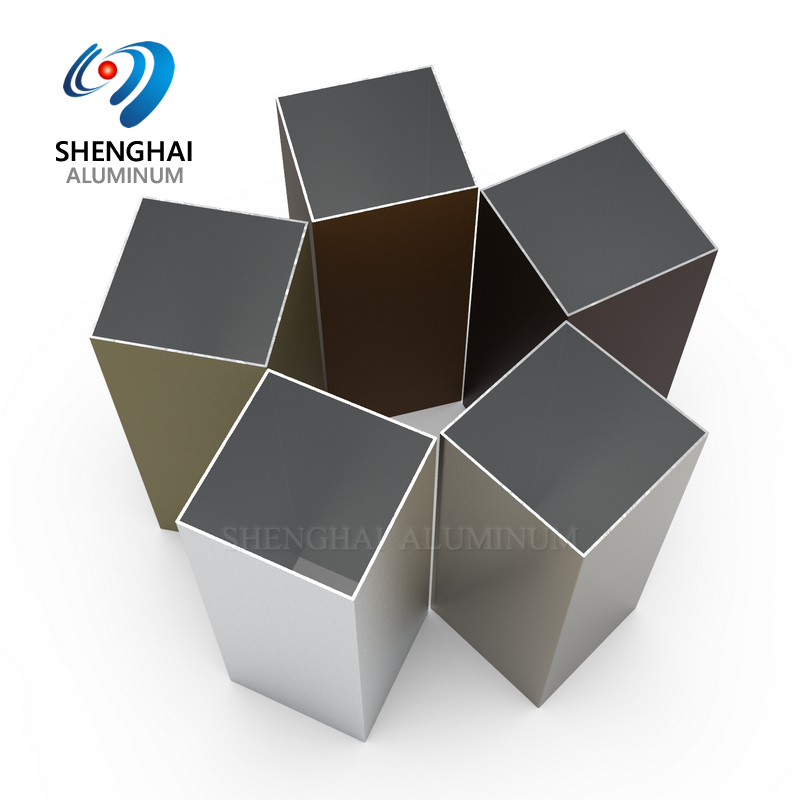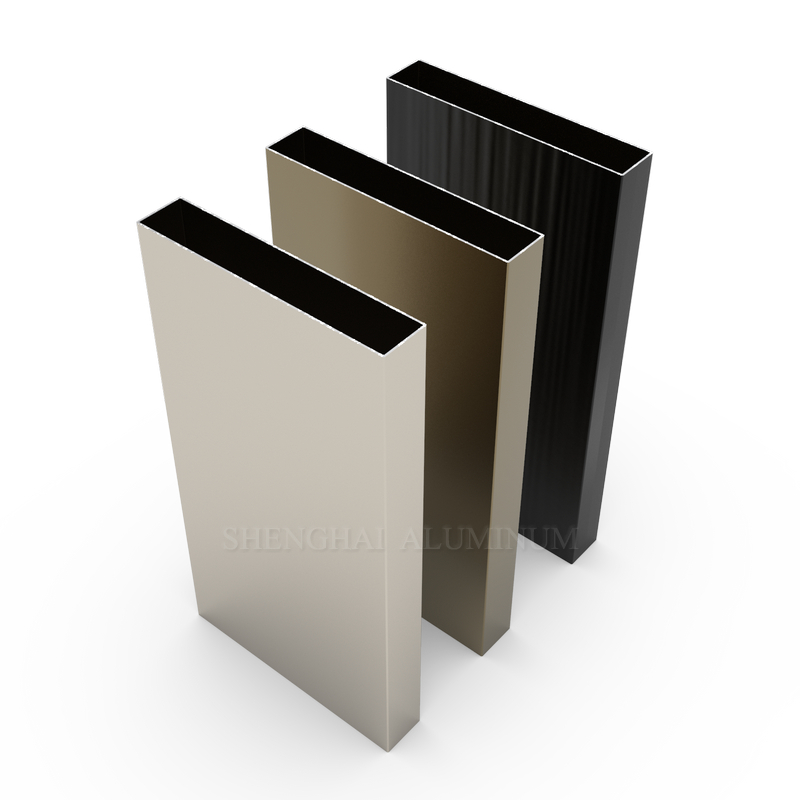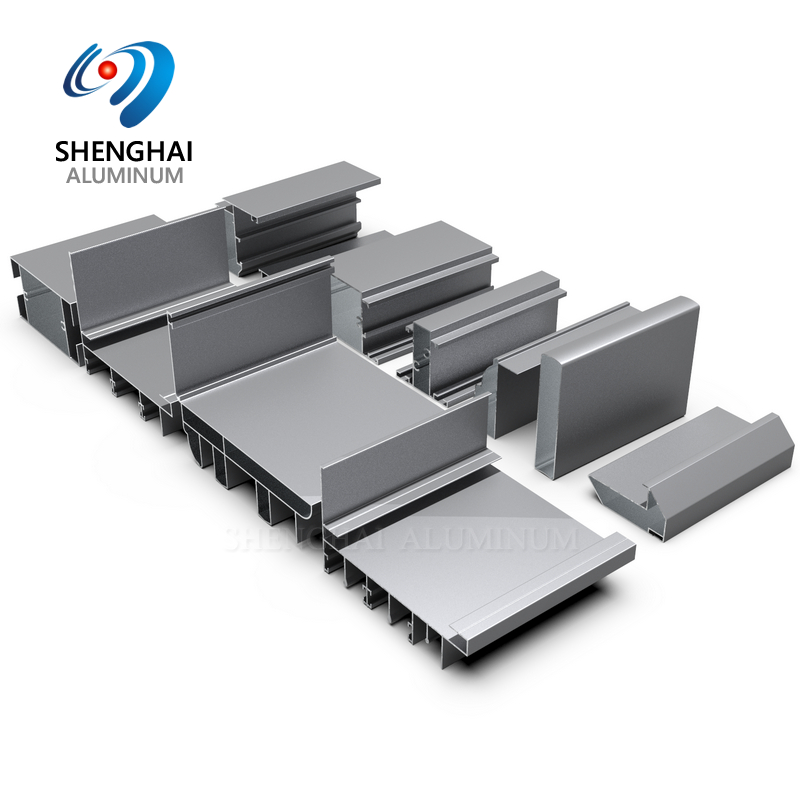 Various Aluminum Profiles for Kitchen Cabinets
Aluminum Profiles for Doors and Windows
Shenghai Aluminum also supplies custom-made, light but strong profiles for doors and windows. These are supplied to various international markets such as Haiti, Mexico, Philippines, Thailand, Peru, Argentina markets, etc. These aluminum profiles are also built with thermal breaks to decrease heat transfer and separate the interior and exterior surfaces.