By Categories: Aluminum Furnitures
One of the leading choices in outdoor furniture, aluminum is a superb option for patio furniture due to its portability, durability and beauty. Aluminum will last for years, allowing you to get the most out of your money.Many designs are available because cast aluminum is made using the process of pouring melted aluminum into molds. The many benefits of cast aluminum furniture include: Cast aluminum won't rust, allowing it to be used in any climate. The material is lightweight, allowing you to easily move it for seating arrangements. Due to how the furniture is created, many designs are available, tending to every culture around the world.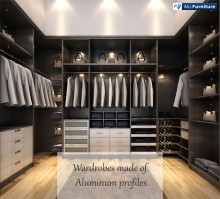 Furnitures
Aluminum Furnitures; Aluminum Profiles to Make Furnitures, Wardrobes, Kitchen Cabinets, Bathroom Cabinets.